One of our artists, Brian Kliewer, offered to write a guest blog about his newest painting, "From the Stern."  We hope you enjoy reading about its development and the thought process that went into the making of this magnificent painting, which will be on display this summer at the gallery. MH
"From the Stern" 30"x48" oil on canvas © 2011 Brian Kliewer
Over the years I've struggled with the idea of subject matter and the notion of being a "landscape artist."  I much prefer the thought of just being an artist as opposed to being locked in to any one specific genre.  To me, it's more important to paint what you know and feel or experience.  This is what I want to do most and have often tried to add that "flavor" to my work, no matter what the subject.  If I can somehow include what I was feeling at the time, then I feel I've created a successful painting.    That's what I tried to do with this painting...to push myself to a different level...a different view...and get that feeling into the work, if possible.  
This is the schooner, "Heritage," as she's passing the Rockland Breakwater.  Another can be seen in the distance.  I had a good reference photo of the schooners on hand for a while (minus the gulls) and I knew I wanted to use it for a painting, but wasn't sure how to approach things.  One thing I did know, the feeling it gave me was not one of  being on the breakwater but more like being on a boat myself.  However, as I was working on it, I kept thinking it looked more like a background than a finished painting.  I wasn't sure I wanted to do anything to it, or how it would work as a "background."  I just knew it felt like one. 
A tough decision...
With most of the painting laid out and many parts actually "finished,"  I reached a crossroads in its design.  The more the painting developed, the more everything was weighted to the left.  I needed something for the rght side and I didn't know what it would be. Then it hit me to add the gulls.  I've thought of "overlaying" a subject in the past but had never tried it before...at least not to this extent.  It was risky.  I resisted the urge for a few days.  Compositionally, it was a challenge anyway.  But coming back and adding seagulls in a painting where they were not originally planned really turned up the heat at the easel!  Then I thought to  myself..."I can leave it and end up with a 'nice' painting, or I can be bold and end up with a 'dynamic' painting."   And the whole time I was fully aware that I could just end up ruining the damn thing.  So it was an daunting choice to have to make....but I went with it.  
A "sternman's view"
I once worked as a sternman on a lobster boat.  It was just a temporary job...I was filling in for a friend.  But as I was working on the painting, it struck me to change my focus...to place it on the viewer, instead.  The schooners are passing by as the gulls start to go into a frenzy behind the boat, which is out of view here.  I took this approach because I wanted to put the vewer into the boat....to bring the viewer into the painting.  So in that sense, the viewer is the subject.  
An "orchestrated chaos"  
Working out the composition, deciding where to place the gulls became sort of a game...a chess match.  It  was challenging and I was constantly concerned about overdoing it.  But at the same time, I knew the nature of the gulls would have them flying about in a very "chaotic" manner, overlapping each other and obscuring views...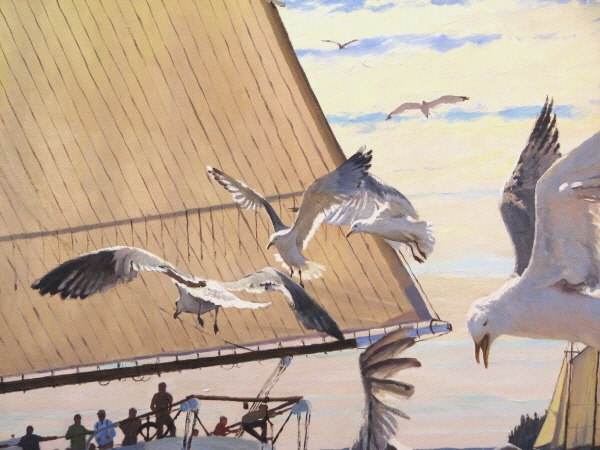 So I wanted at least some of that in the painting, though not a complete "visual cacophony".  Instead, I opted for more of a ballet or dance structure in the compositional rythm.  I tried to set up a rhythm...thinking of a pattern that might resemble notes on a sheet of music.  From that approach, I got this "waltz in the air" effect...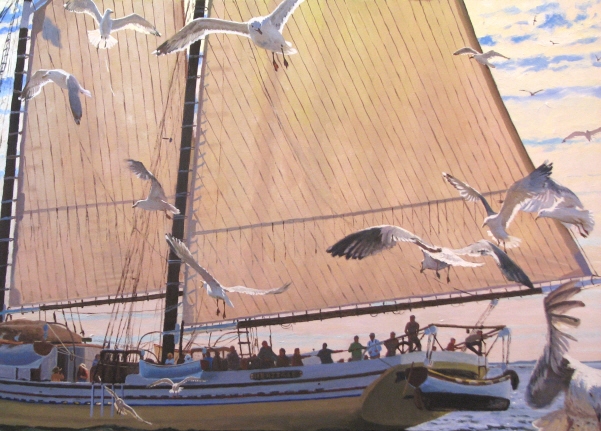 (Also in this view you can see the schooner crew - and some of its passengers, I believe -  hoisting the "pushboat" into its storage position behind the ship.  And... yes, that wing on the right was in this upright position.  So I chose to place this particular gull here to keep the action onboard the schooner in view without unobstruction.)
I wrestled with the idea of "obscuring" the distant schooner.  I even thought of removing it completely and letting the gull just hang in the air free and clear.  But this painting is meant to be more of a 'working man's" view, a "sternman's" view rather than a pretty postcard.  So I went with this  "natural frame" that formed around it instead.  Seagulls with their wings, feet and bills often do create these "windows" when flocking.  
A little Maine humor
If you look around the painting you see things that may surprise.  A friend asked about the feet danglling in the upper right portion of the canvas.  In fact, she objected to them.  She felt they had no relevance to the rest of the painting and wondered why I added them. So I suggested she take a look around.  At the bottom of the painting you see a gull that is cut off.  I had fun with this as it became sort of a gag on the old magician's trick of "cutting a lady in half."  The difference here is, I didn't cut a "lady" in half... I cut a "gull" in half. His/her bottom half (feet) are at the top of the painting, while the  top half is at the bottom.  I thought about removing them after adding them but it just stuck in my mind that this IS one common sight when gulls are flying over head.  I've seen many webbed feet out of the corner of my eye in situations like this.  So besides adding a little humor to the painting, I felt it lent some authenticity as well.
How do you get seagulls to pose?  
I went to the beach and took a couple of loaves of bread with me. After about 10-15 minutes, I had over 100 photos.  But that wasn't enough since I still wasn't getting the views I wanted.  The winds the first day were quite strong, and the gulls were positioned mostly at angles that didn't work for me.  So I went again the following day.  Two more loaves were gone in about 10 minutes.  So they devoured four loaves of bread in a total of about 30 minutes. But for those four loaves, I had about 50-60 "models" posing in all sorts of positions.  I got the "frenzy" I was looking for.   In all, nearly two dozen specific reference photos were used for the gulls.  
In the end, I didn't really paint one of those seagull "frenzies" but perhaps the beginning of one.  The gulls are gathering rather than obliterating the view.   If you've ever seen a lobster boats under "attack" or being chased by hungry gulls, then you know what I mean.  As I was tossing those pieces of bread into the air, I got that experience.  At least to some degree, I was able to"re-create" it.   The gulls were going crazy. It was more of a melee than a "waltz."