---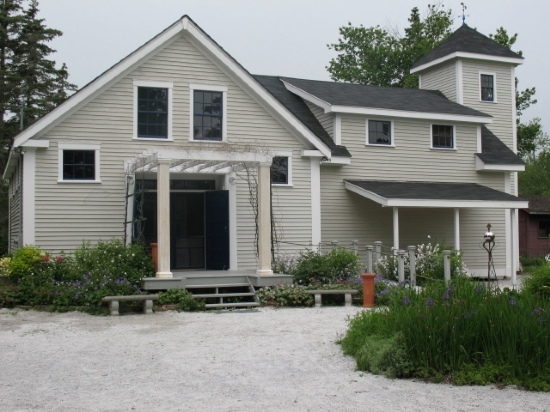 We have expanded! Read about it on our News Blog by clicking the Topical Index. Watch us grow!

Mars Hall is located in mid-coast Maine, on the St. George Peninsula. Between the fishing villages of Tenants Harbor and Port Clyde the gallery is housed in a Greek Revival Building on the historic Marshall homestead, (the gallery was named as a tribute to its sea-faring ancestors).
Nestled amongst tall pine and perennial gardens is some of the finest art in Maine. Abstract to Realism, in oil, acrylic, watercolor and collage. As well as sculpture, one of a kind jewelry, pottery, stained glass and mosaics.

We also carry antiques, cards and peace and quiet!



Summer Hours, ( June 21st - Labor Day ), 10 - 5, Wed. thru Sun.
Labor Day thru Columbus Day 10 - 5, Sat. & Sun. or by appt. or chance.
12.7 miles from US Rt. 1 on Rt. 131. S.
On the right across from stone building and just before Drift-Inn Beach.


621 Port Clyde Road
Tenants Harbor, ME 04860
207.372.9996 or 207.372.8194
E-mail:
marshallgallery@roadrunner.com

Click HERE to subscribe to our email newsletter for upcoming shows and announcements.
GALLERY NEWS
"YULETIDE IN ST.GEORGE"
Friday & Saturday, November 29th & 30th, 10-4
Sunday December 1st by appt. call 207-372-8194 or 20-372-996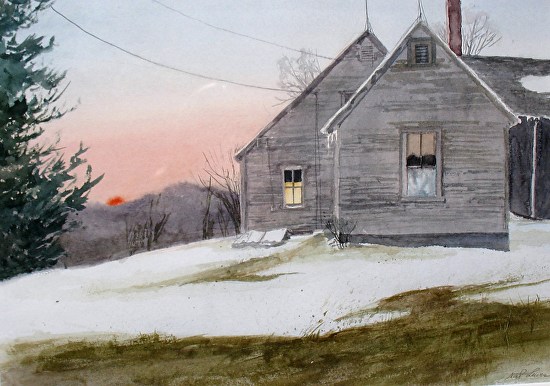 "March Snow" by Nat Lewis
Join us for cookies & cider and visit our 3 French Hens, 2 Ringneck Doves and a Wostrich by the pine tree. The gallery offers decoupage jewel boxes by Davene Fahy, handmade designer coats by Elaine Pew, hand carved decoys by Stephan Hill, turned & carved vessels by Dick Kelly, handmade Kozo Art by Diane Green-Hebert, the Recycled Zoo by Brian Read, mixed-media scupture by Bill Cook, Priscilla Cross and Jay Hoagland as well as stained glass, pottery, mosaics and antiques. There will also be watercolors by artists Leo Brooks, Nat Lewis, Elaine Reed & Carl Sublett, oil & acrylics by Nancy Baker, Kris Johnson, Roger Kirby, Sharon Larkin, Chuck Paine, James Reed, Holly Smith, Cali Veilleux, Barbara Major-Weaver and Ron Weaver, mixed-media by Jeannine Anderson, Lise Becu, Dorothy Read, John Read and Eleanor Zuccola, etchings by Otty Merrill and David Paffhausen, egg tempera by Terry Wolf, silkscreen and photography by Ken Martin, Antonia Small and Maurice Klapfish.
For more Info call 207-372-8194, 207-372-9996 or email marshallgallery@roadrunner.com
PLEIN AIR PAINTING with NANCY BAKER
2014 Wookshops Coming Soon
Mars Hall Gallery is excited to offer two Plein Air Oil Painting Workshops with artist and teacher Nancy Baker. Nancy has taught both children and adults not only in the states, but as far away as Cambodia. You will spend five days exploring the beautiful St. George peninsula. The focus of the workshop will be on drawing, composition, and color and is recommended for beginner to intermediate artists.
"Nancy Baker is an outstanding teacher and total pleasure to study with. Her accrued knowledge as an artist and gifted teacher are quickly apparent in the plein air setting. Nancy has a remarkable ability to meet you at your level (or easel), and make incredibly educational and eyeopening suggestions that deepen your skills and sustain your spirit. Upbeat and down to earth, Nancy is a generous fund of information, an articulate, helpful, and inspiring teacher."
Catherine Steiner-Adair
To register contact the gallery by email or phone.
marshallgallery@roadrunner.com
207-372-9996 or 207-372-8194
NANCY BAKER IN CAMBODIA
Nancy Baker was invited to teach art to children at an orphanage in Phnom Penh, Cambodia this past year. Amjad Ghori started the orphanage, NGO, in memory of his only child, a daughter named Aziza who died under tragic circumstances. Aziza's Place, NGO, is a home and school for several dozen children who lived in extreme poverty.
She carried a backpack full of art supplies for the children. One of the projects was to create a piece of art for "Family Night". She traveled with the staff to the slums to pick up some of the children's relatives. "The filth, the smell, the lack of sanitation or any kind of decent shelter and the sheer expanse and density of this neighborhood was beyond anything I'd imagined. I'd seen images of poverty filtered through a camera lens, but never had I experienced it with all my senses. It was heartbreaking and sickening and I felt remorse and guilt for being repulsed by what I saw and smelled." After reuniting the children and their families and sharing a wonderful meal and the art the children created, Baker was struck by how great the need is and how few children are actually given a way out of poverty. It also explained their gratitude, joy and engagement in everything that they experienced.
She's been invited to return often and hopes to do so as long as her body can tolerate the 21 hour flight. "The most enduring thing I saw was the generosity of spirit that created this safe haven and the children who embraced and radiated that hope in their lives. They live every day in an attitude of gratitude and appreciation."