Follow this Blog
---
2D + 3D = 5D
Brian Kliewer Show
Carl Sublett Memorial Show
Charles Wilder Oakes Show
Gallery Expansion
Guest Post by Brian Kliewer
Kris Johnson Show
Ronald Frontin Show

---
Archives:Sep 2014
July 2014
Sep 2013
Aug 2012
July 2012
Aug 2011
June 2011
July 2010
June 2010
Sep 2008
Aug 2008
July 2008
June 2008
May 2008
Apr 2008
Mar 2008

"Ouside the Box"
by on 9/7/2014 3:19:48 PM
Comment on this


"OUTSIDE THE BOX"
There are artists who create outside the main stream of ART, sometimes self taught, but always their own vision. "Outside the Box" explores their individuality and uniqueness. Featured painters are Elaine Niemi, Jimmy Reed, Barbara Major-Weaver, C. W. Oakes and Zero Motel. Also paintings on fabric by Parisian Street Artist Maurice Michel Lode. Antonia Small has combined her passion for dance and theater in her pinhole camera work all framed in antique frames. The show also offers Assemblage works by Bill Cook, Constance Kiermaier and Elaine Niemi, Kozo Masks by Diane Green Hebert, and mixed media metal sculpture by Brian Read and Jay Hoagland.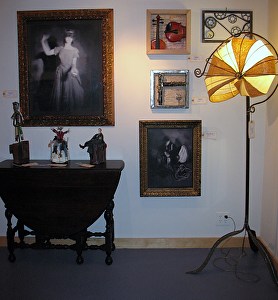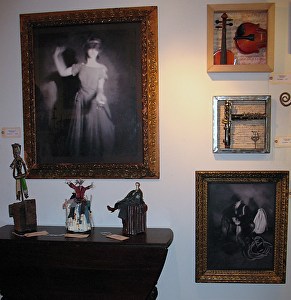 Photographs by Antonia Small ~ Figurative Sculpture by Elaine Niemi ~ Nemo Lamp & Musical Wall Sculpture by Jay Hoagland.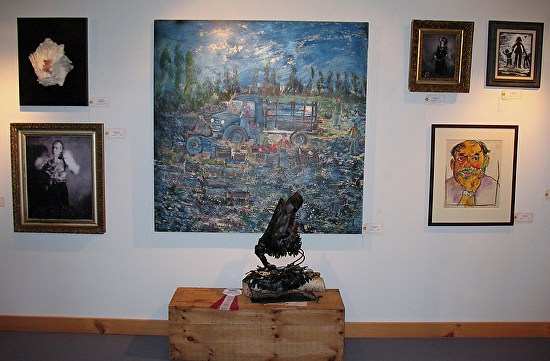 Kozo Mask Diane Green Hebert (Top L) "Raking Berries" by Elaine Niemi A. Small & E. Niemi (Top R)
Antonia Small (Bottom L) "Tinker" by Elaine Niemi Self Portrait by Zero Mostel (Bottom R)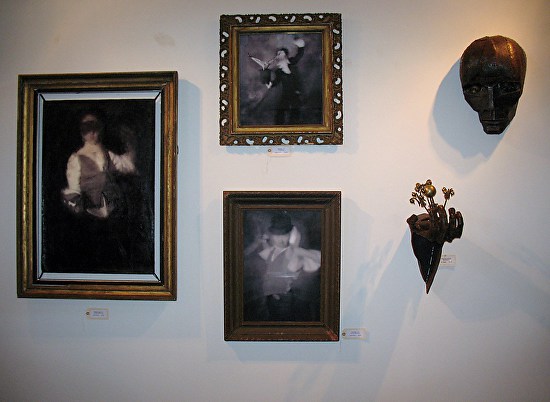 "Athena II", (Lg.), Encaustic L "Hermes" Top "Blind Watchmaker" R
by Antonia Small "Proci" (Lg.) Bottom by Jay Hoagland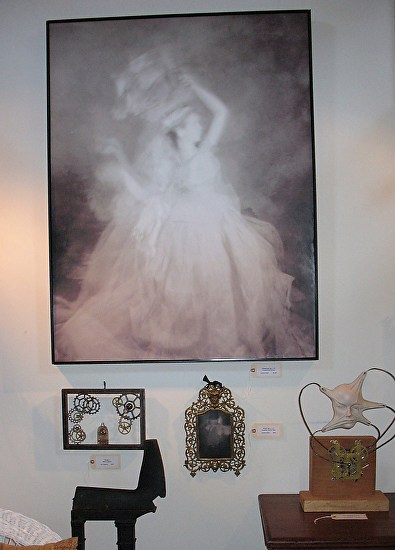 "Penelope" pinhole photo with wax by Antonia Small Top
"Orrery I", Jay Hoagland "Proci",(sm.) "Noncustodial Parent"
Dik Dik by Bill Cook Antonia Small by Jay Hoagland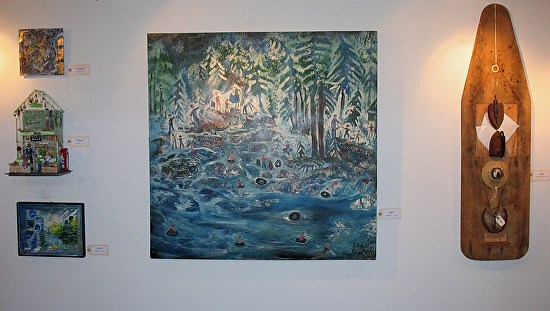 Elaine Niemi "Clambake" by Elaine Niemi "Home" by Constance Kiermaier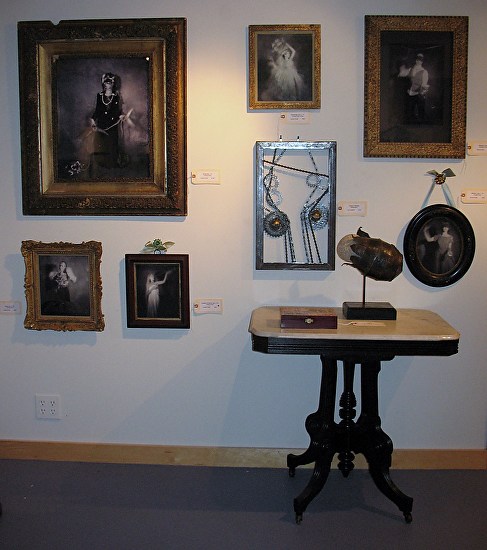 The pinhole photography by Antonia Small was created by leaving the shutter open for 8 - 10 minutes while Antonia posed in costume.
"Orrery 5 Binary" hanging and "Birth" on the table are both by Jay Hoagland.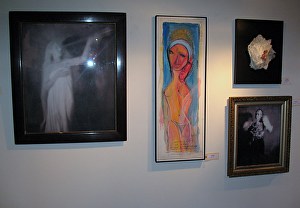 A. Small, Maurice Michel Lode, Diane Green Hebert, A. Small Constance Kiermaier, Elaine Niemi, Maurice Michel Lode
"Fireworks" by Elaine Niemi
"Outside the Box" is a feast for the mind as well as the eyes.
Comment on or Share this Article >>
---
"MAINE & ME" Ron Weaver Memorial Show
by on 7/14/2014 8:05:16 AM
Comment on this


"MAINE & ME"
RON WEAVER MEMORIAL SHOW
June 20th - July 20th, 2014
"Long Cove Clouds"(center) By Ron Weaver Collection of the Family
Ron Weaver received a BS from Manchester College in 1961. He then went on to Graduate School in Painting at Indiana University in 1962. After receiving Academic Scholarships from Yale University School of Art & Architecture in 1964, 1965 and 1966, he earned his BFA in 1964 and his MA in 1966. Ron has also done Independent Study in London, Paris, Rome, Florence, Sienna, Madrid and Toledo from 1959 to 2003.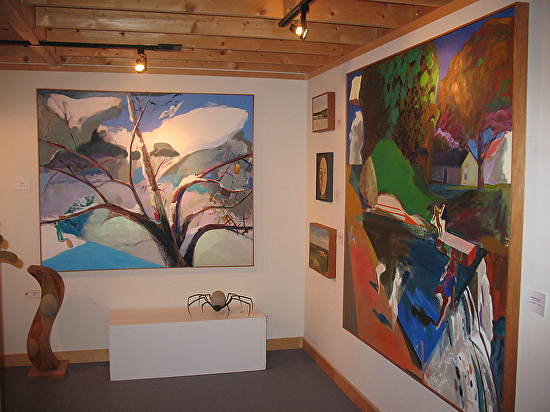 "Winter" L "Swimming Hole l" R
Weaver studied with Master Teachers Lester Johnson, Leland Bell, Jack Tworkov, Bernard Chat, James McGarrell, Al Held, William Bailey, Harry Engel, Nick Carone, Sewell Sillman, Rudy Pozatti, Irving Driesburg, and Gabor Peterdi. He also took painting seminars with Frank Stella, Jim Dine, James Rosenquist and Richard Lindner.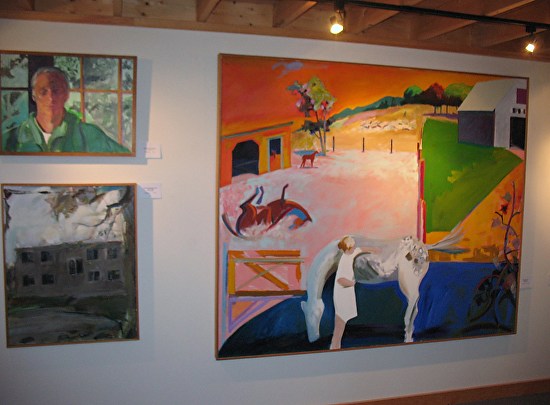 "Self Portrait in Studio" & "Walpole Meeting House" L "Pink Paddock & Appaloosa" R
Starting in 1966, in the "Master of Fine ART Exhibition" at Yale, Weaver's paintings have been show throughout the US and Canada.
In 1989, Weaver had a One Person Exhibition at Galerie Etienne de Causans in Paris, France.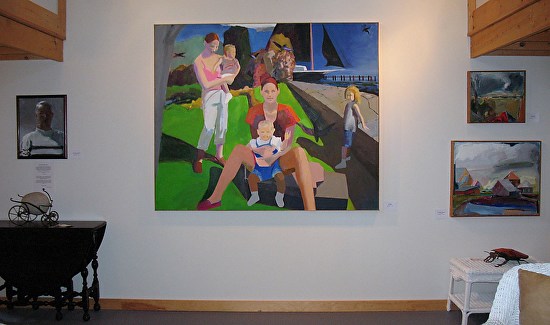 "Swallows" Collection of the family
"Self Portrait in Gray Shirt" L "Rainbow Park" & "Little Beach, Pemaquid" R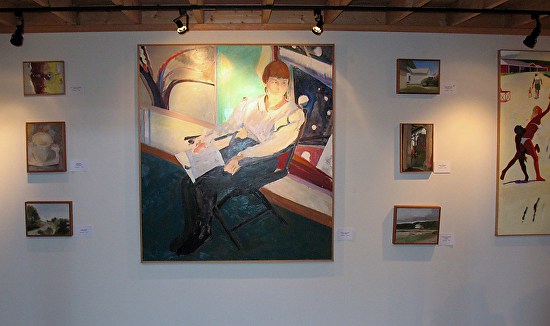 Portrait of Barbara Major-Weaver "Barbara Interrupted"
In the early 60's Weaver began teaching ART in Public Schools in South Bend, Indiana and Orange, Connecticut.
He became Assistant Instructor of ART at Yale, (1965-66), and then Assistant Professor of ART at Wright State Univ.,
Montclair State College and the University of Wisconsin-Oshkosh. In 1974 he became an Associate Professor of ART at
the University of Wisconsin-Oshkosh where he taught till he retired Emeritus Professor Of ART in 2004.
Barbara Major-Weaver, Ron's wife, was a student of Ron's and has become an accomplished artist in her own right.
"Rue Furstenburg", Paris L "Barbara Interrupted" R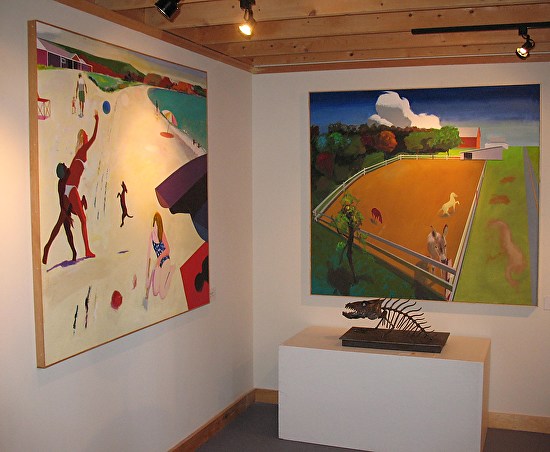 "Pemaquid Beach" L "Norcross Corral" R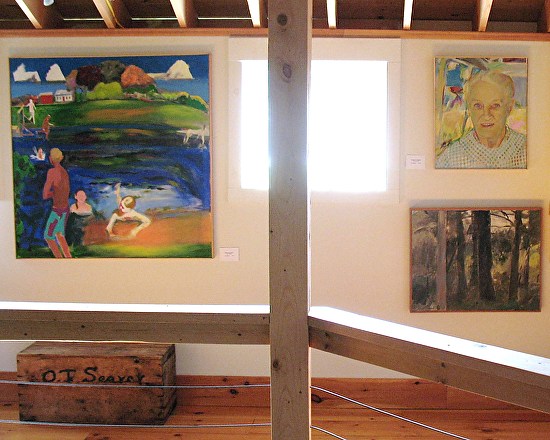 "Swimming Hole 2", Collection of the Family L "Elizabeth Chadwick" Top R
"Summer Solstice" Bottom R
On December 5th, 2013, Ron lost his battle with cancer. He was a talented artist and wonderful human being. Besides is loving wife Barbara, he leaves behind his beautiful daughter Jennifer and two lovely granddaughters as well as family and friends. He touched the lives of many students over his 40 years of teaching and leaves us all with the legacy of his incredible ART.....
Comment on or Share this Article >>
---
"10 SHOW"
by on 9/21/2013 10:40:41 AM
Comment on this



10!!!!!!!!!!
Mars Hall Gallery Celebrates Ten Years
August 23rd thru October 14th, 2013
A call went out to all artists and 66 responded. The new wing of the gallery fearures work in all mediums by artists from 10 states in a show titled "10". Among the early entries are encaustic works by Yvonne Buijs-Mancuso of Washington State, rainbows by James Reed of New Jersey, woven watercolors by Barbara Ernst of Vermont, pastels by Rebecca Yates Shorb of Maine & Pennsylvania and acrylics by Jeanette Steele Esposito of Massachusetts. The show was not juried and each artist was allowed to enter up to three pieces 10" x 10". Ten artists from Mars Hall are participating in the show which includes a 10' x10' sculpture by Brian Read.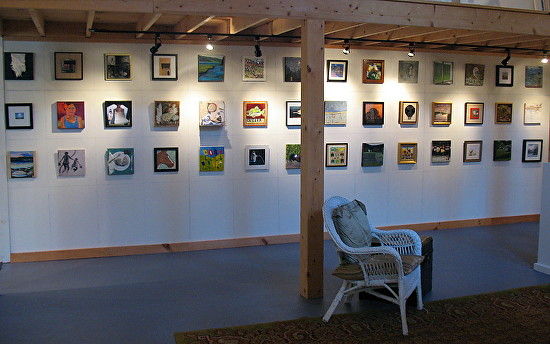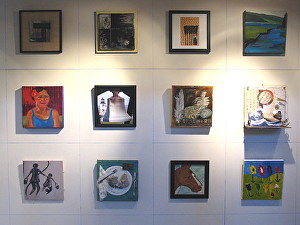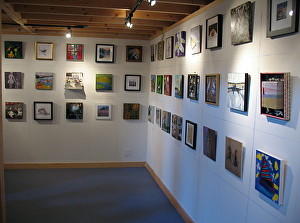 John Read Ronald Frontin & Class Cali Veilleux & Becky Shorb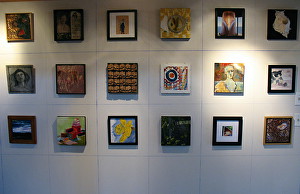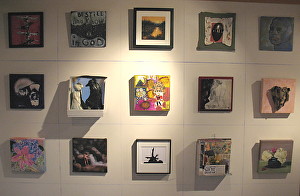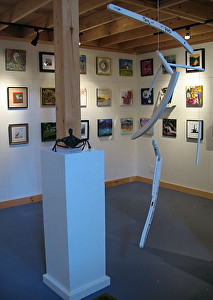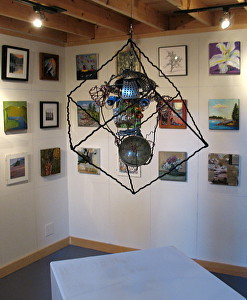 Nancy Geehan Elaine Niemi John Read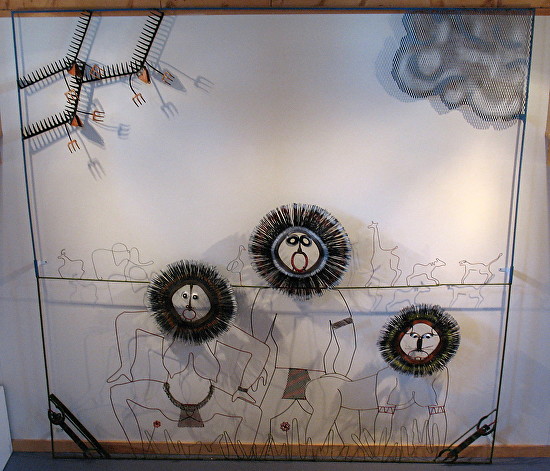 Dancing Lions by Brian Read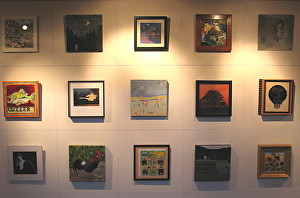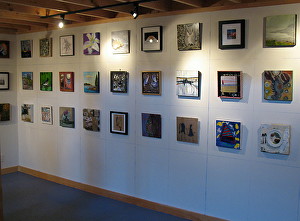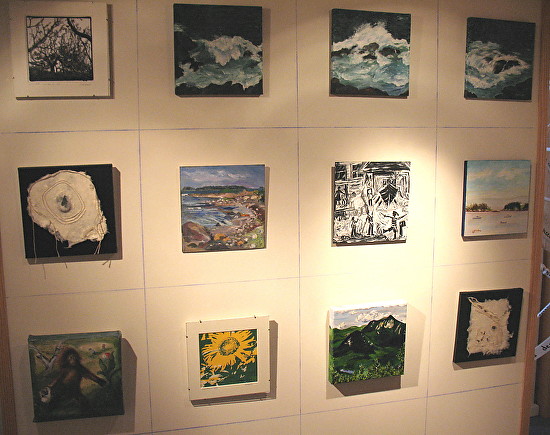 Participating Artists are Angela Anderson, Barbara Deem Anderson, Jeannine Anderson, Shirley Anderson, Lise Becu,
Geoff Bladon, David Blanchard, Phoebe Bly, Yvonne Buijs-Mancuso, Darlene Cocke, Teddi-Jann Covell, Gil Coyle, Priscilla Cross, Jeanne Dawson, Sherry Holden Dec, Barbara Ernst, Jeanette Steele Esposito, Penne Fontanez, Annadeene K. Fowler, Greg Francis, Ann Marie French, Ronald Frontin, Valerie Garrigan, Nancy Geehan, Lauren Gill, Alicia Hammett, Kay Hansell, Marilyn Harrington, Dave Hastings, Diane Green-Hebert, Jay Hoagland, Marie Ilvonen, Kris Johnson, Lydia Kaeyer, Roger Kirby, Anne Klapfish, Maurice Klapfish, Judith B. Kohn, Roslyn Marcopulos, Ken Martin, Otty Merrill, Ed Moffit, Don Moore, Jenifer Mumford, Hannah Nelsbach, Elaine Niemi, Ann O'Hara, Elizabeth Owen, Chuck Paine, Thomas Peabody, Elaine Pew, Victoria Pittman, Brian Read, Dorothy Read, John Read, Elaine Reed, James Reed, Mimo Gordon Riley, Pat Ryan, Rebecca Yates Shorb, Holly Smith, Beverly St. Clair, Pam Swing, Marianne M. Swittlinger, Cali Veilleux, Nancy Warren, Beth West, Jamie Wiggin, John Wood, Carmelia Yager and Eleanor Zuccola. Many thanks to all of the artists that made "10" a GREAT show.
Comment on or Share this Article >>
---
"LOST & FOUND" - Mackenzie & Cook
by on 8/28/2012 9:12:20 AM
Comment on this


"LOST & FOUND"
Mackenzie & Cook
August 10th - October 8th 2012
"Lost & Found" features the 3-D ART of Edward Mackenzie & William Cook. Both artists work with everyday found or discarded objects or parts there of, but their constructions are very different. Mackenzies' work has a strong design element with references to humor, allegory, or history where Cook creates with playful experimentation using a minimal approach. Their work is displayed amongst a backdrop of abstract paintings by Roger Kirby, Russell Smith and Carl Sublett.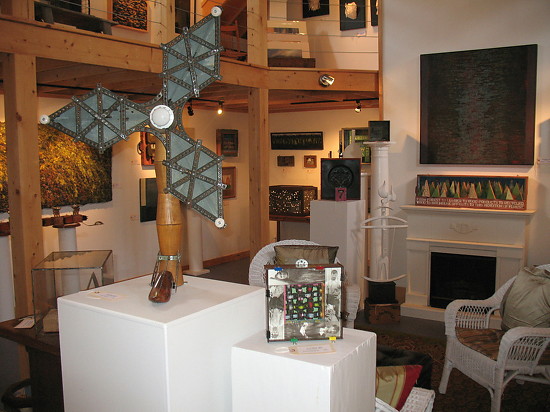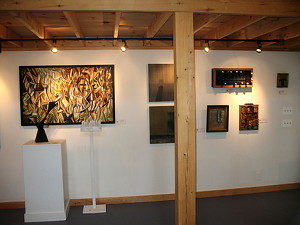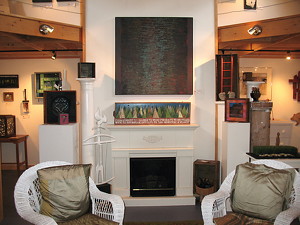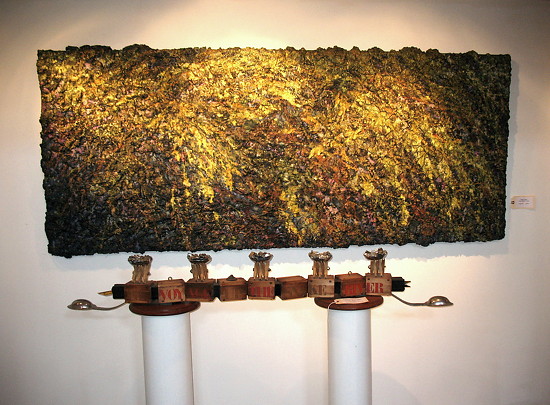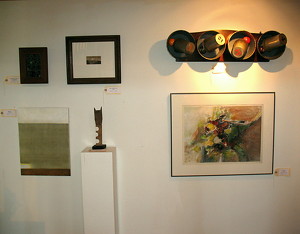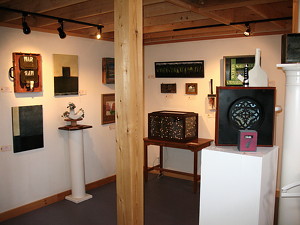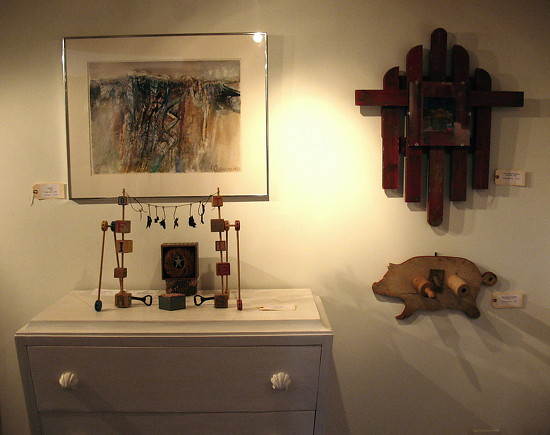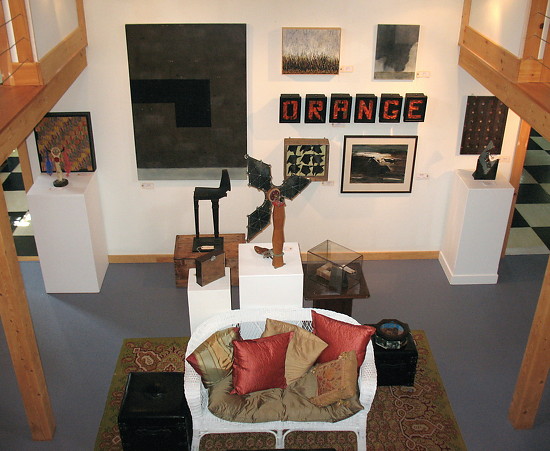 Comment on or Share this Article >>
---
FOWL PLAY
by on 7/8/2012 8:12:17 AM
Comment on this



"FOWL PLAY"
6/22/12 thru 8/5/12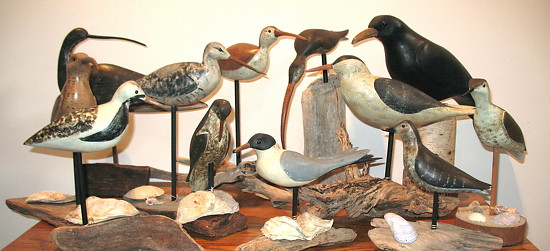 Hand carved & painted decoys by Stephan Hill
"Free Spirit" by Alison Hill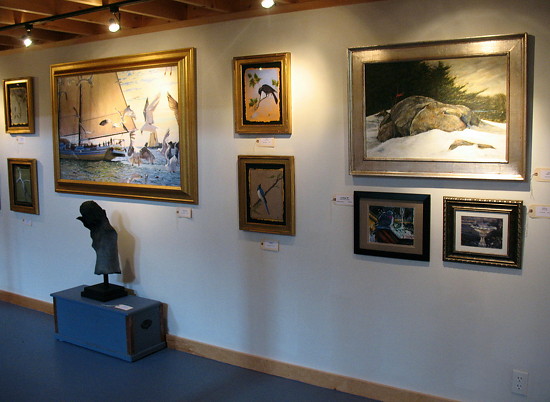 Brian Kliewer, Otty Merrill, Nancy Baker, Terry Wolf, Eleanor Zuccola & Carl Sublett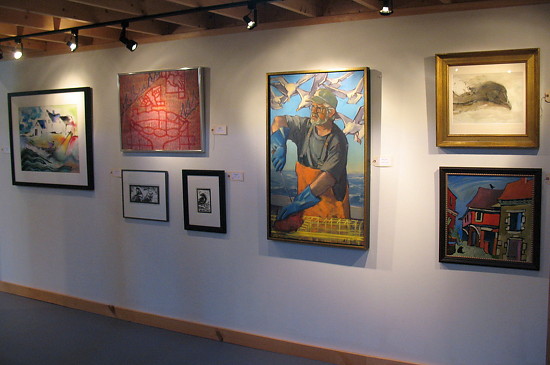 Leo Brooks, Carl Sublett, Ken Martin, Alison Hill, Carl Sublett & Kris Johnson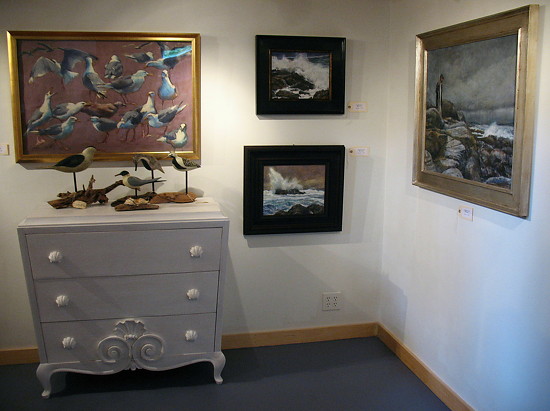 Pastel by Alison Hill, Carved Decoys by Stephan Hill & Egg Tempera by Terry Wolf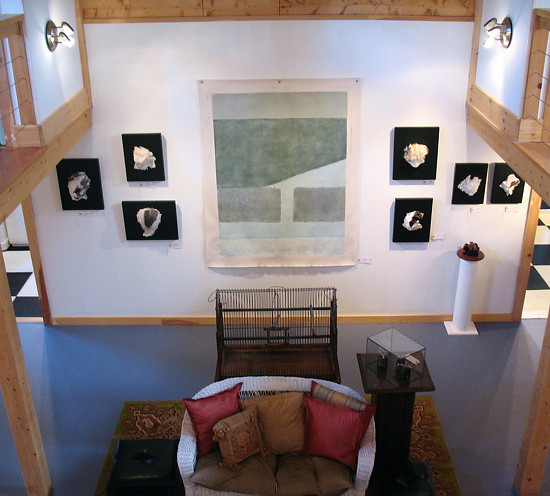 Masks - Diane Green Hebert, Painting - Russell Smith, Piano Birds - Edward Mackenzie
& Red-Wing Blackbird Vessel by Dick Kelly
Comment on or Share this Article >>
---
"WE THE PEOPLE"
by on 8/6/2011 7:43:52 AM
1 Comment



"WE THE PEOPLE"
featuring
Ronald Frontin & his students
from the Lincoln Street Center in Rockland
Participating Students:
Angela Anderson ~ David Blanchard ~ Amy Cornell
Sandra Mason Dickson ~ Doreen DuFour ~ Bruce Elfast
Susan Egerton Griggs ~ Judy Kohn ~ Roslyn Marcopulos
Otty Merrill ~ Pat Ryan ~ Jamie Waterman ~ Beth West
Also participating Mars Hall Artists:
Leo Brooks ~ Charles DuBack ~ Alison Hill ~ Nat Lewis
Kris Johnson ~ Brian Kliewer ~ Blanche Sefton Lutz
Ken Martin ~ Carl Sublett ~ Eleanor Zuccola
Sculpture:
Bill Cook ~ Marylin Quint-Rose ~ Andy Rosen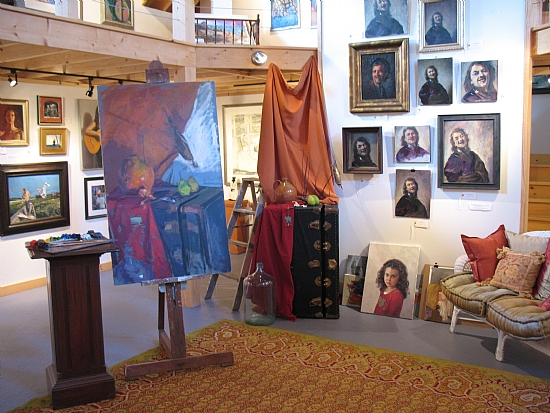 Frontin Demo & the Smiling, Singing, Tap Dancing Rembrandts!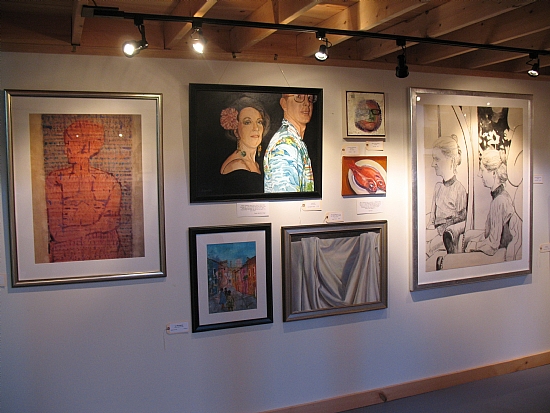 Sublett ~ Griggs ~ Zuccola ~ Merrill ~ Ryan ~ DuFour ~ DuBack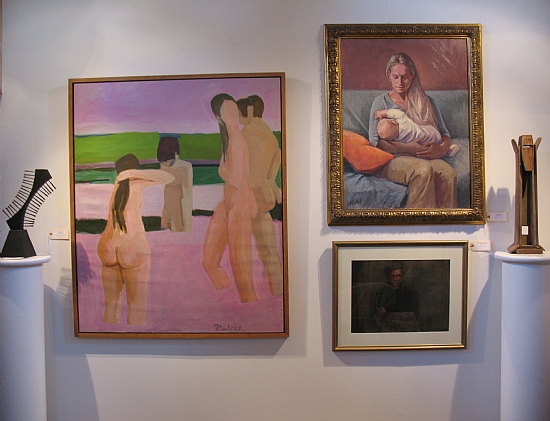 DuBack ~ Hill ~ Sublett ~ Sculpture - Cook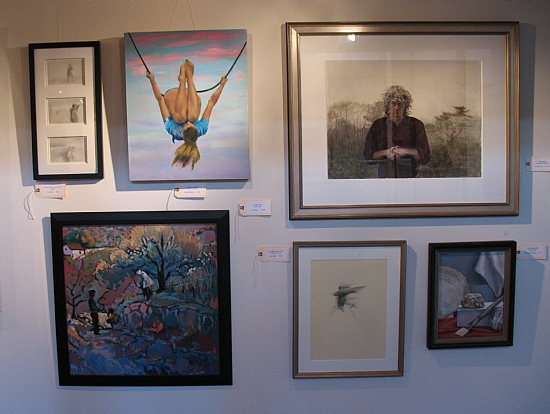 Drawings - Sublett ~ Anderson ~ Frontin ~ Johnson ~ Griggs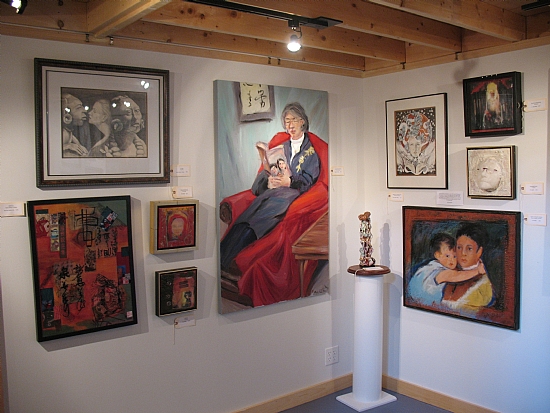 Griggs ~ Lutz ~ Merrill ~ Anderson ~ Sculpture - Quint-Rose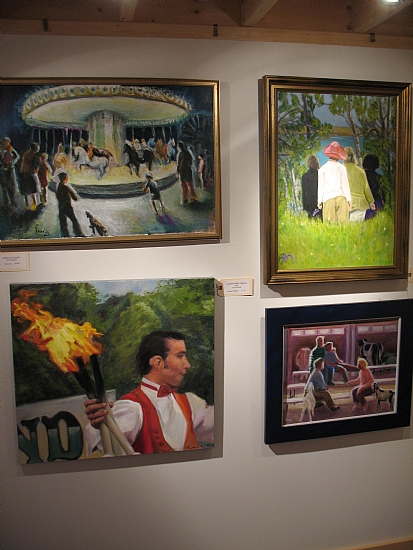 Emily Muir (top L, Bottom R), Anderson ~ Ryan
Drawing - Frontin ~ Sculpture - Merrill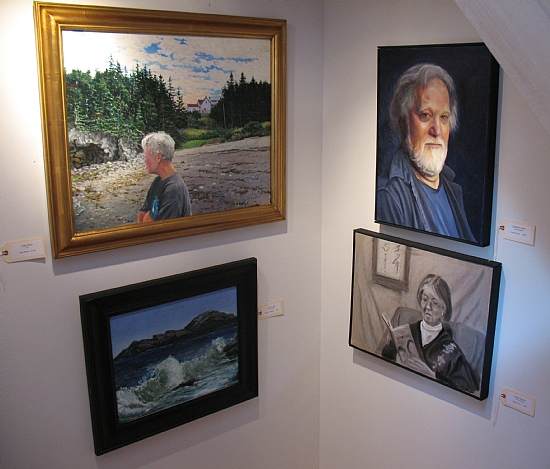 Kliewer ~ Marcopulos ~ DuFour ~ DuFour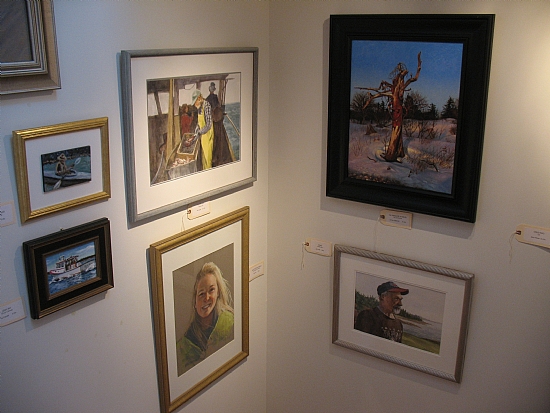 Elfast ~ Cornell ~ Lewis ~ Hill ~ Waterman ~ Lewis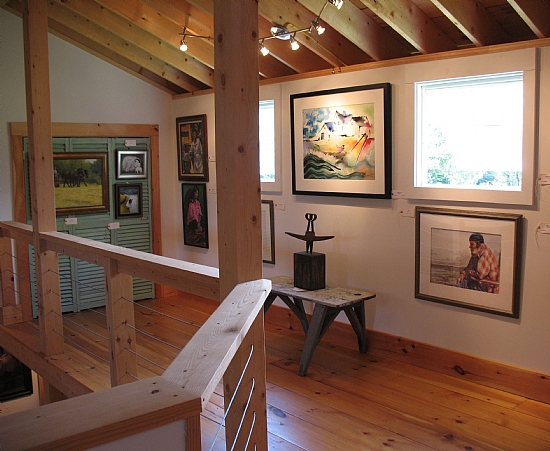 Dickson ~ West ~ Johnson ~ Lewis ~ Brooks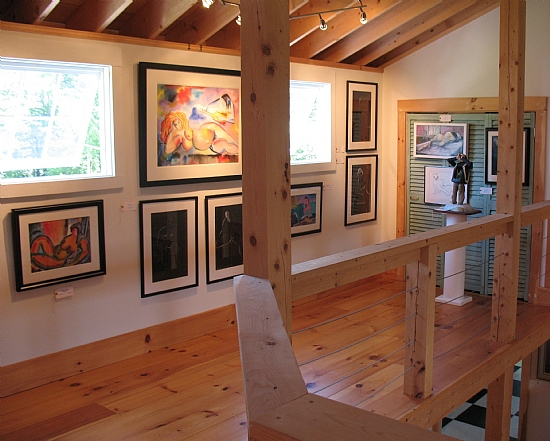 Brooks ~ Martin ~ Sculpture - Rosen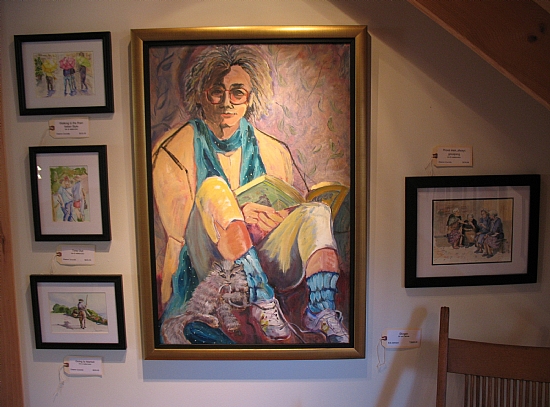 Zuccola ~ Johnson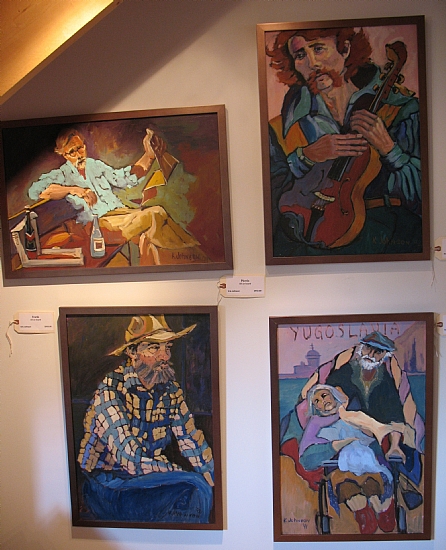 Johnson
Comment on or Share this Article >>
---
ABSTRACTION
by on 8/3/2011 7:17:42 AM
Comment on this


ABSTRACTION
"Art of the Mind"
June 24th - July 17th, 2011
"Rainbow" by Charles DuBack
Sculptures by Bill Cook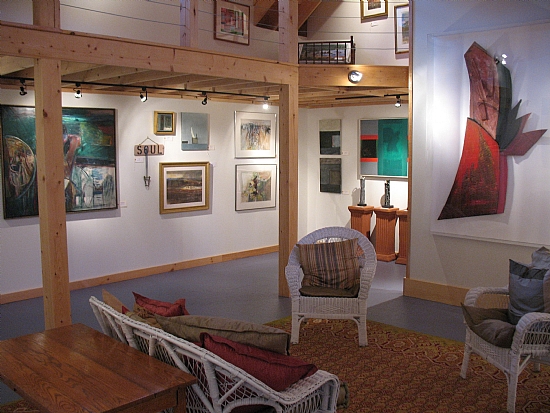 Marylin Quint-Rose
Carl Sublett & Robert Hamilton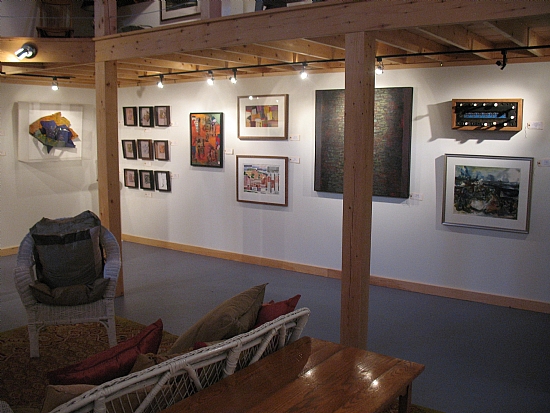 3-D Assemblage by Edward Mackenzie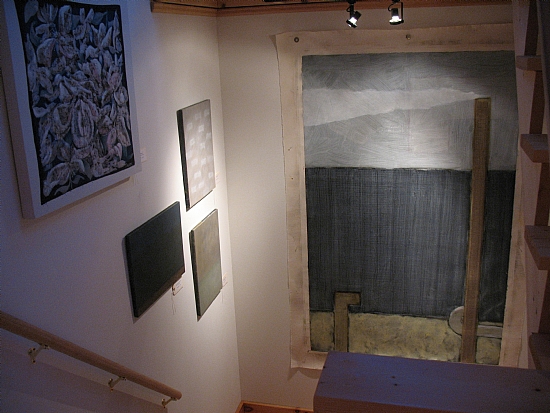 Russell Smith
Ken Martin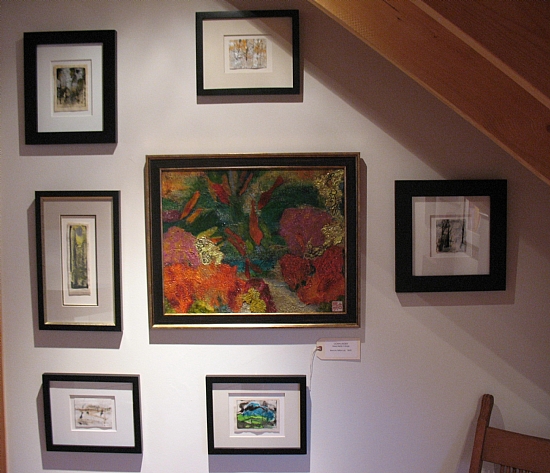 Blanche Sefton Lutz & Wm. Thon
Comment on or Share this Article >>
---
Brian Kliewer discusses "Winter Storm"
by Brian Kliewer on 6/20/2011 8:20:35 PM



Follow along in this guest post by artist Brian Kliewer and discover how he achieved these amazing effects in his new painting, "Winter Storm". MH
"Winter Storm" 30"x24" oil on canvas © 2011 Brian Kliewer

I'd like to disucuss some of the techniques I use in my work. Though I do paint realistically, I like to add "texture" to my paintings when possible. This is a relatively new approach for me. An artist friend suggested adding texture a couple of years ago and I had been thinking that way. But the one thing I didn't want to do was make the paint look like paint simply because it is paint. I'm not an impressionist painter, so that didn't seem like an approach I wanted to take. So how do you add "texture" to a very realistic painting and make it "work"?


Brush and Knife?
There are "purists" who would never introduce a palette knife to a painting that is mainly done with a brush. That's fine, but I have seen some beautiful paintings that incorporate both knife and brush techniques very well. The full online image doesn't really show it well, but in "Winter Storm" I have relied on both quite heavily. First the brush was used to lay the ground work and then I brought the knife in to "finish" it off.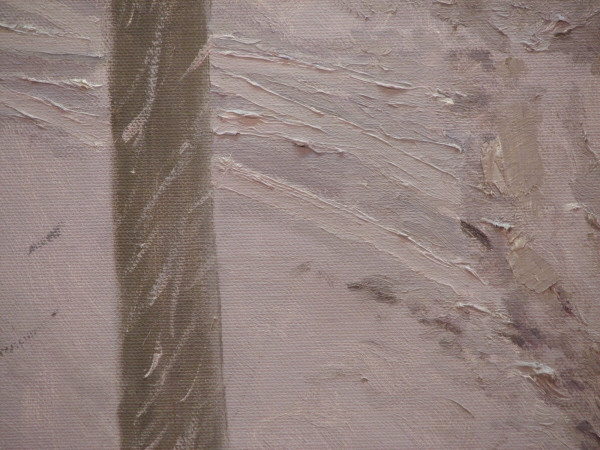 If you have a snow covered road, you're going to have "ruts," right? I applied paint in the road quite heavily to simulate the tracks in the snow. The car in the upper left of the painting was parked at a gas station and the tracks in the snow lead to it.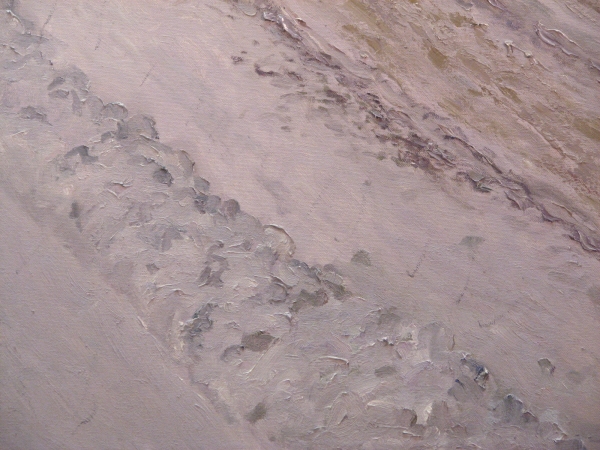 Some of the snow ruts in the road were first painted with a brush but then enhanced by heavier applications with a palette knife. I also built up texture quite heavily in the snow bank.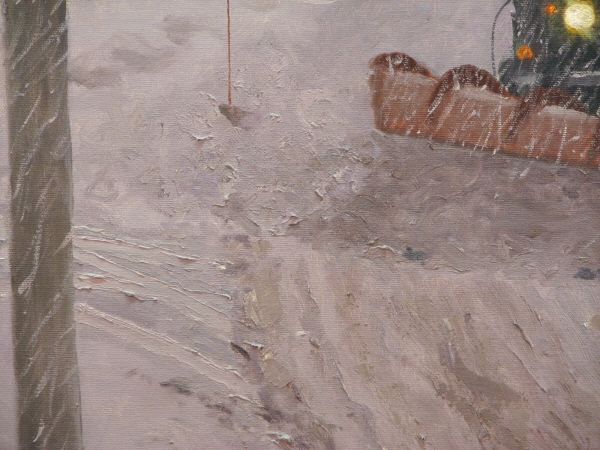 I also added heavy texture where the snow is churning from the snow plow.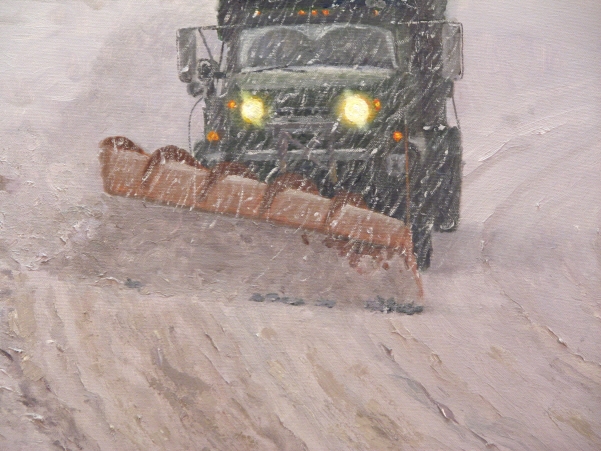 A note about the headlights...
Yes, they do appear to be turned on (illuminated) when the painting is viewed in person. I discovered a trick many years ago that I still use today. I washed in the entire painting when I started it but I left the headlight area of the canvas bare. Then I built up my middle tones, etc., all around, and at the very end, added my yellowish washes to the bare white canvas. I feel I get a greater inetnsity this way. There are other ways to paint "illuminated" lights, but this is my preferred method for depicting bright "white" light. The orange lights are an example of another way as they were painted with mostly pure, undilluted, "unmixed" color. I mixed very little color here while the rest of the painting is toned down with a mixed, almost "monochromatic" color scheme. This makes these painted lights appear more "luminous" as their intense orange color is worked against the painting's more subdued arrangement. So without working overly "dark" in the painting, I was able to get this kind of "illuminated" look. Adding to all of this is the fact that, compositionally, the headlights are the only part of the painting that carries this kind of intensity. If I had lights all over the place, they could appear to be quite "luminous," yes... but the impact would be lessened.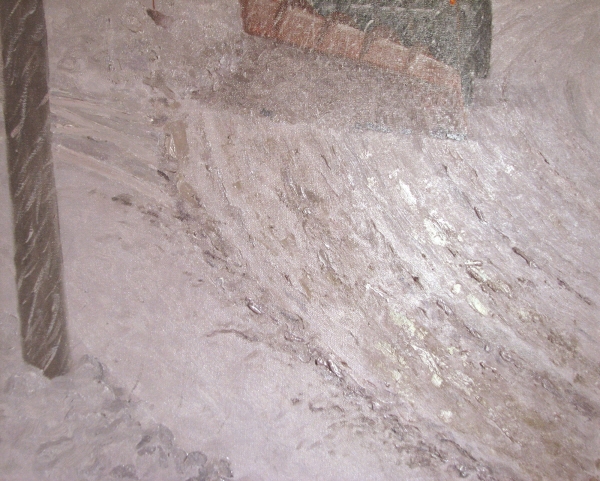 The "icing" on the cake...
After I felt the rest of the painting was more or less "finished," I came back to the road and laid in some very smooth strokes of fresh paint with the palette knife. As you walk around the "dried" painting, you can see what's going on and why the knife worked so well here as it gives the paint application on the road surface the shiny appearance of "ice."
Is this the only way one should paint? No, I wouldn't say that. But I've discovered some fun and interesting tricks by adding texture. I've been able to make paint's inherent qualities stand out and work to my advantage. In the end, I feel I've brought more of my own personality to the work. Perhaps someday I will work in an even more "painterly" fashion, I don't know. I expect that I will. But for now, I'm satisifed to add some texture in selective measure to highlight the nature of certain aspects of the scene I'm working on.
Read This Full Article >>
---
PH 207.372.9996 MarsHallGallery@roadrunner.com