---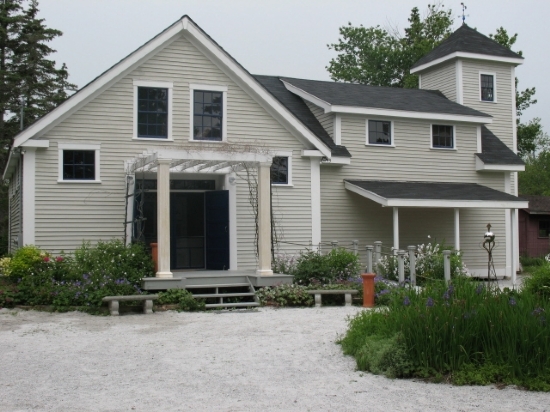 We have expanded! Read about it on our News Blog by clicking the Topical Index. Watch us grow!

Mars Hall is located in mid-coast Maine, on the St. George Peninsula. Between the fishing villages of Tenants Harbor and Port Clyde the gallery is housed in a Greek Revival Building on the historic Marshall homestead, (the gallery was named as a tribute to its sea-faring ancestors).
Nestled amongst tall pine and perennial gardens is some of the finest art in Maine. Abstract to Realism, in oil, acrylic, watercolor and collage. As well as sculpture, one of a kind jewelry, pottery, stained glass and mosaics.

We also carry antiques, cards and peace and quiet!




12.7 miles from US Rt. 1 on Rt. 131. S.
On the right across from stone building and just before Drift-Inn Beach.


621 Port Clyde Road
Tenants Harbor, ME 04860
207.372.9996 or 207.372.8194
E-mail:
marshallgallery@roadrunner.com

Click HERE to subscribe to our email newsletter for upcoming shows and announcements.
GALLERY NEWS
"ST. GEORGE SALES INTO SUMMER"
Sat. May 25th & Sun. May 26th
10 - 4 p.m.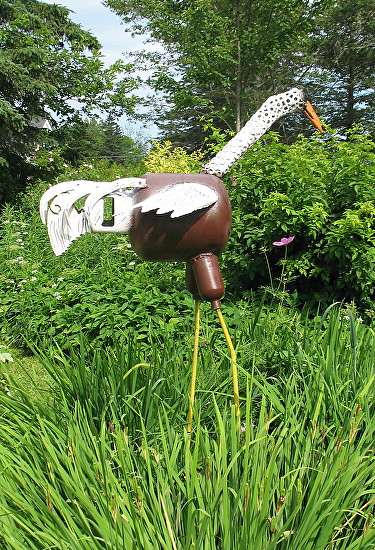 "Wostrich" by Brian Read
Mars Hall Gallery will open its doors for a special pre-season event, "St. George Sales into Summer".
The two day sale will feature the "Recycled ZOO", by Brian Read. Read creates whimsical animal
sculptures of scrap and recycled metal that is welded and painted.
They are great for both the home and the garden.
The new wing will feature an eclectic mix of paintings and 3-D art by gallery artists
Nancy Baker, Leo Brooks, Bill Cook, Kris Johnson, Dick Kelly, Roger Kirby, Sharon Larkin, Nat Lewis,
Ken Martin, Otty Merrill, David Paffhausen, Elaine Reed, Carl Sublett and Eleanor Zuccola.
In the main gallery a sale of selected Art, art and framing supplies and equiptment no longer used or
needed by the artists.Matboard, foamcore, artist chairs, easels and lots more will be available.
Also a large variety ofantiques and collectibles, stained glass, pottery, as well as
farm fresh eggs and Poop de le Poulet!
NANCY BAKER IN CAMBODIA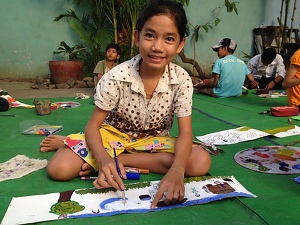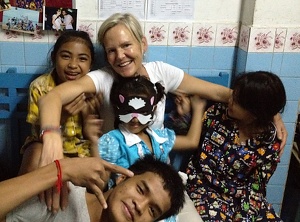 Nancy Baker was invited to teach art to children at an orphanage in Phnom Penh, Cambodia this past year. Amjad Ghori started the orphanage, NGO, in memory of his only child, a daughter named Aziza who died under tragic circumstances. Aziza's Place, NGO, is a home and school for several dozen children who lived in extreme poverty.
She carried a backpack full of art supplies for the children. One of the projects was to create a piece of art for "Family Night". She traveled with the staff to the slums to pick up some of the children's relatives. "The filth, the smell, the lack of sanitation or any kind of decent shelter and the sheer expanse and density of this neighborhood was beyond anything I'd imagined. I'd seen images of poverty filtered through a camera lens, but never had I experienced it with all my senses. It was heartbreaking and sickening and I felt remorse and guilt for being repulsed by what I saw and smelled." After reuniting the children and their families and sharing a wonderful meal and the art the children created, Baker was struck by how great the need is and how few children are actually given a way out of poverty. It also explained their gratitude, joy and engagement in everything that they experienced.
She's been invited to return often and hopes to do so as long as her body can tolerate the 21 hour flight. "The most enduring thing I saw was the generosity of spirit that created this safe haven and the children who embraced and radiated that hope in their lives. They live every day in an attitude of gratitude and appreciation."
SKETCHBOOK PROJECT 2012 - BROOKLYN, N.Y.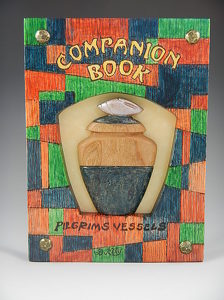 "Companion Book" by Dick Kelly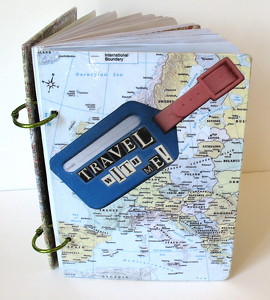 "Travel With Me" by Eleanor Zuccola

"It's About Time" by dona bergen
Three Mars Hall Gallery artists are participating in the Art House Co-op Sketchbook Project 2012 World Tour out of Brooklyn, N.Y. The Project opens in Brooklyn on April 14th and then travels to Chicago; Portland,OR.; Vancouver, Canada; Los Angeles; San Francisco and Boston. It will then visit the SPACE Gallery in Portland, Maine, July 11th - 14th. After Portland, it will continue on to venues in Toronto, Canada; Philadelphia; Atlanta and Austin,Texas.
More than 24,000 artists from 94 countries selected a theme from a list provided by the project. They were sent a sketchbook measuring 7.25" high by 5.25" wide. The interior of the books could be manipulated in any manner as long as the book closes to the original size and no more than 1"thick. The finished sketchbooks were returned to the project headquarters in Brooklyn by Jan. 31st, where they are assembled into a mobile Art Library.
Eleanor Zuccola, Dick Kelly and Dona Bergen participated in this years project. Zuccola chose the theme "Travel with Me". Her sketchbook titled "Travel With Me" is done in pen & ink, watercolor and collage and depicts her travels in Europe. Kelly also chose the theme "Travel with Me" and illustrated many of his pilgrims vessels in his book titled "Companion Book". His hand carved and colored wood cover is an example of the fine craftmanship of his turned & carved vessels. "Time Traveler", was the theme Bergen chose. Paying homage to Time Pieces & Memories, she created a double-sided accordian book. The collaged book titled "It's About Time", contains clock parts and a window with an hour glass that can be viewed thru the book.
After touring the country, all sketchbooks will enter the permanent collection of the Brooklyn ART Library and be available for public viewing. The books may also be viewed on the Sketchbook Projects website this summer at www.arthousecoop.com.